Polyurea Waterproofing Spray Coatings For Stadium Grandstand
Update::2015-09-23 15:13 View:
Polyurea waterproofing has been widely used and tunnel, swimming pool, Bridges, roof leak proof, etc., polyurea excellent waterproof performance, has gradually replaced traditional waterproof material,
Features of polyurea coatings:
1. The solid content of 100%, no volatile, non-toxic, conform to the requirements of environmental protection
2. The excellent physical properties such as strength, hardness, toughness, hardness is adjustable
3. The compact coating, anticorrosive, waterproof, wear-resisting performance is remarkable
4. Strong weatherability, outdoor use for a long time not crack, not pulverization, not an omission
5. In steel, aluminum, concrete, wood, plastic and other kinds of all have good adhesion on
6. Good thermal stability, can be long-term use under 150 ℃, can withstand the temperature of 250 ℃
7. To join various pigments, fillers, made into different colors of different characteristics of products
8. Is not sensitive to humidity and temperature, the construction strong adaptability to environment
9. Fast curing, construction not sag;Can a construction requirements, short construction period
After construction is easy to repair the jointless, beautiful and practical

Specification of polyurea coatings:
Item

TypeⅠ

Type Ⅱ

Solid content (%)

99

99

Gel time (s)

20

20

Table dry time (s)

40

40

Tensile strength (MPa)

18

23

Break elongation (%)

375

510

Tear strength (N/mm)

66

77

Adhesion (MPa)

3.6

4.2

Low temperature bending (℃)

-35

-40

Water impermeability (0.4MPa, 2h)

impervious

impervious

Heating expansion rate (%)

≤1.0

0.4

water absorption rate (%)

2.5

2.5

Hardness (shore A)

85~95

85~95

Wear resistance [(750g/750r)/mg]

13

13

Impact resistance (kg.m)

1.0

1.0

Artificial climate aging (2000h)

good

good

Density (g/cm3)

1.02

1.02

Color

can be modulated according to requirement
Note: Due to the difference of field conditions, the actual measured data may differ from the above data.
Theoretical amount of polyurea coatings:
Recommended film thickness is about 1.5-2.5mm, estimated consumer consumption amount for 2.0-3.0kg/square meters, the amount of nodes, corners and some special parts may than theoretical consumption greater.
The shortest, time is not limited;
The longest, no more than 3 hours
Commonly used SBS,APP roofing waterproof material such as the following problems:
1. Have juncture, easy appear juncture place not firm and water penetration
2. Due to the low strength of materials, substrate crack and fracture, cause leakage
3. Long after the rain and snow and wind and frost's exposure to the sun's ultraviolet rays, material aging crack leakage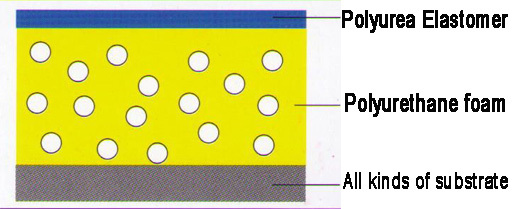 Applications
of polyurea coatings:
Suitable for: all kinds of building roof waterproof leakproof and bridge, reservoirs, tunnel and underground engineering and power plant cooling tower, water tank, aquarium, swimming pool, etc. Lining concrete structure

Not only widely used in ordinary engineering waterproof construction, but also can be used for difficult waterproof engineering, such as municipal construction of underground waterproofing, the tunnel seepage control and all kinds of corrosive sewage treatment area of ditch, the pool of waterproof anti-corrosion engineering construction.